Kay Kapoor has been named one of Washingtonian's 2018 Tech Titans – a list of Washington's Top Tech Leaders
Kay Kapoor
A former CEO of Accenture Federal Services, Kapoor left her lead position at AT&T's $15-billion Global Public Sector division last year to found her own firm. Though still in the early start-up phase, Arya Technologies is worth watching because at AT&T Kapoor helped land a 25-year federal contract worth an estimated $100 billion.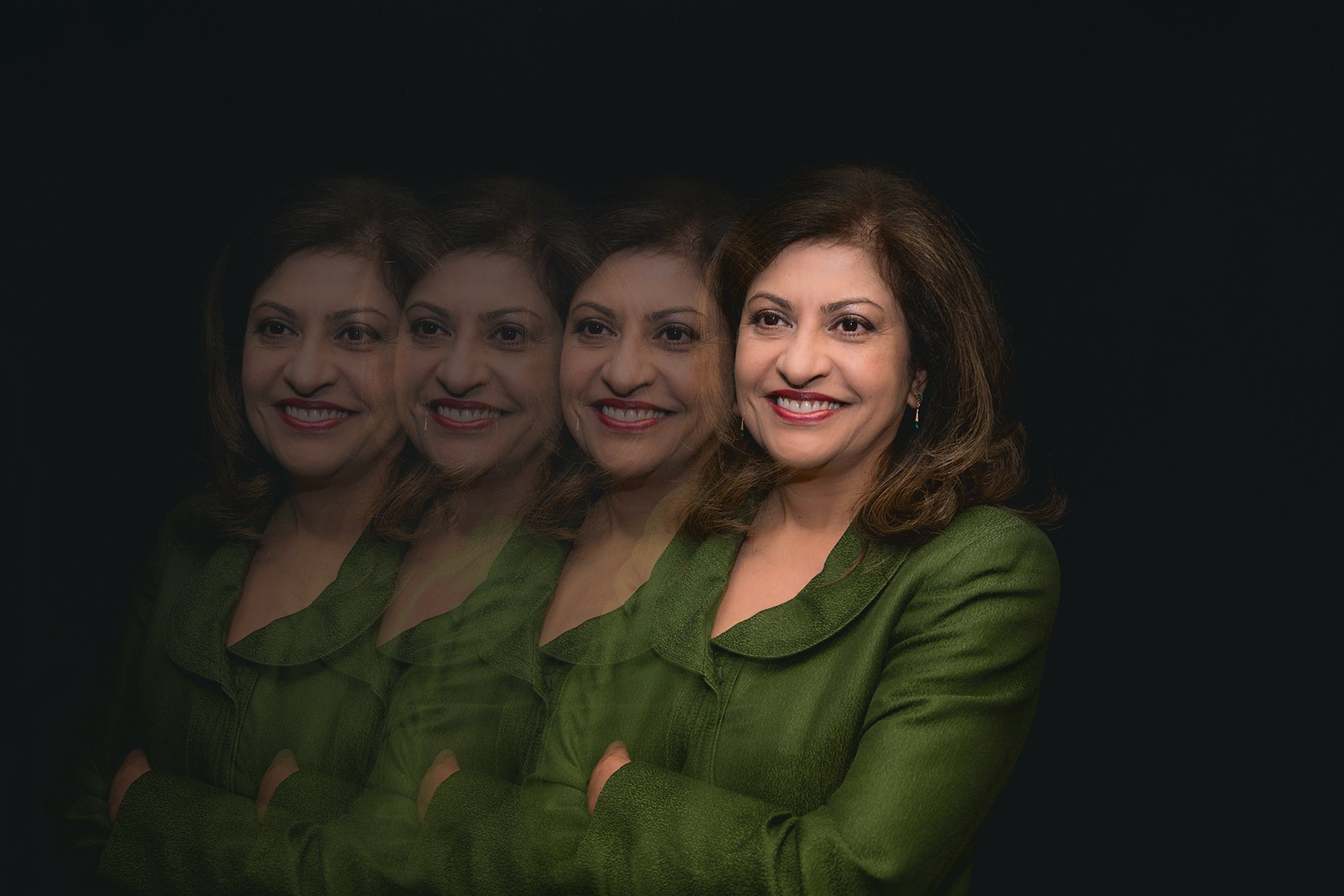 Kay Kapoor. After leading a $15 billion division at AT&T, she launched her own federal-contracting start-up.
There was a time when Washington's tech sector was dominated by three big names—Micro­Strategy, LivingSocial, Blackboard. But as those companies split apart or morphed into something other than the juggernauts they once were, they gave way to firms with names like Cofense, EverFi, EdgeConneX—hopeful, hip, made-up words that suggest something fresh and new on the scene. Look closer, though, and you'll see that the old titans are very much there in this new landscape: Sid Banerjee at Clarabridge. Andrew Rosen at Interfolio. Sanju Bansal at Hunch Analytics. Timothy Chi at WeddingWire. Susan Tynan at Framebridge. All are alumni of those Big Three.
What's also new is that none of the aforementioned companies are dependent on Washington's best-known buyer of tech, the federal government. As the DC technology industry has expanded, it has diversified. Today it's increasingly common for local start-ups not to depend on the government at all, instead getting into the kind of business that would be equally at home in Silicon Valley—things such as SocialCode's "audience intelligence software," which helps big brands better leverage social media, or Alarm.com's connected, smart-home devices.
The region's entrepreneurial class has long fantasized about being seen as more than a cadre of glorified federal contractors, which is one reason firms like these get so much hype. In reality, Uncle Sam's bony fingers are still all over our list—and that's good news, even if that story isn't as sexy as the Silicon Valley version. The government being the government, some of what it buys from local contractors is relatively mundane, if important, work such as data processing and enterprise software. Yet some of the local companies that do those things for government agencies now rank among the fastest-growing small businesses in the country. Meanwhile, some government tech contractors here have become multibillion-dollar IT concerns: Leidos, General Dynamics Information Technology, and DXC Technology are all billion-dollar businesses, and all have expanded exponentially through recent mergers.
The feds are also helping drive what may be the fastest-growing subcategory of tech here—cybersecurity. Companies such as Endgame are earning their keep protecting federal databases, while firms including Altamira are getting paid to manage geospatial-intelligence info. Others, such as LookingGlass Cyber Solutions and Dragos, are also establishing reputations for being the best in the business for addressing cybersecurity.
A lot of venture-capital money is betting on those cyberfirms—K Street's Paladin Capital, for one, has made more investments in such companies than any other VC fund in the US. Steve Case's Revolution Growth is putting its money into cybersecurity, too, as well as funding local companies such as Optoro, which finds innovative ways to resell products that have been returned by customers, and Cava, the Greek fast-casual chain that has leveraged high-tech tools to fuel its nationwide expansion.
Plenty of others are moving money into tech here, including local NextGen Venture Partners and QED Investors, as well as the local branches of Silicon Valley Bank and the vast New Enterprise Associates. What's more, Washington firms have drawn the attention of national funds not based here. The Rise Fund (singer Bono is an investor) has poured cash into EverFi, a hot start-up in education technology—another growing sector, along with cybersecurity and data centers (70 percent of all internet data traffic now flows through Northern Virginia).
On and on it goes. Cushman & Wakefield ranks ours as the third-best metropolitan area for tech, behind only San Francisco and Silicon Valley. Were Washington to land Amazon's HQ2, that position would likely be solidified.
The ranking reflects what we found in compiling our 2018 list of Tech Titans, a group that covers small start-ups with big potential and ever-expanding tech mega-firms. Backed by local financiers, boosted by potentially billions in federal funding, and supported by a plethora of local universities, the tech industry is growing at a blazing clip. That may make this year's group of Tech Titans the most innovative, most important, and most influential we've ever assembled.
View the entire list of Washingtonian's Tech Titans 2018 at www.washingtonian.com.